Our Team
Our expert veterinarian doctors and skilled vet staff is ready when your pet needs us. Call or contact us today to learn more.
Julie
Hospital Manager
Julie has been with Stoughton Veterinary Service since 2006. She graduated from the University of Wisconsin – Madison with a Zoology and Biological Aspects of Conservation degree. She has always had a love for animals and knew early on this was the field she wanted to pursue a career in. After starting as a receptionist, she is now our hospital manager that loves jumping in where needed to help with animal care and keeping the hospital running smoothly. In her spare time, she is a member of the National Ski Patrol and enjoys spending time with her husband and two kids on the ski slopes. If there's no snow, you are sure to find her hiking, paddling or doing something adventurous outdoors.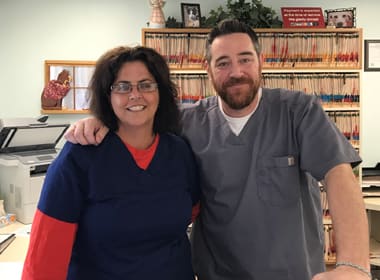 Katie
Customer Service Representative
Katie is the new smiling face you will meet at our front desk. She joined our team in August 2018 and we are excited to have her on board. Please be sure to say hi and introduce yourself the next time you are in!
Brenna
Veterinary Assistant
Brenna joined the Stoughton Veterinary Service team in April 2018 as our veterinary assistant. She is always willing to lend a helping hand and takes great care of our boarding clients! She has 3 dogs: Oscar, Clifford, and Nugget. In her spare time, Brenna enjoys snuggling and hanging out with her 4-legged kids.
Meg
CVT
Meg joined our staff in 2006, she graduated from Madison Area Technical Collage in 2011 as a Certified Veterinary Technician. She has a special interest in Exotics.
Angela
CVT
Angela is one of our Certified Veterinary Technicians. She is our resident "cat lady", as she has four of her own. However, she loves all animals and enjoys working with their owners. Outside of the clinic you can find Angela with her nose in a book, at a Civil War reenactment, or watching the Badgers or Packers.